Early 2013 – Mid 2016
TECH
Symfony
PHP
OOP
MySQL
JavaScript
JQuery
CSS3
HTML5
Illustrator
---
Eurostar wanted to create an app that allowed their passengers to connect with each other to bring the items they were missing to and from Paris and London. The app was called Boomerang, and we built it from scratch.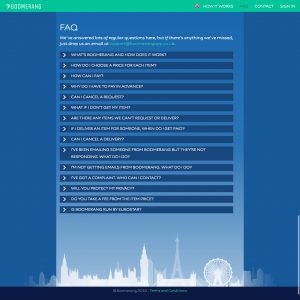 I worked closely with our designers and developers on the look and feel of the app. This app needed to work alongside Eurostar's existing brand guidelines, as well as lend a fresh edge to their output. Another interesting exercise was to imbue the app with Eurostar's tone of voice guidelines, which in some aspects informed the user journey and look and feel of the app, and some parts were more text heavy than most, and the friendly tone of voice meant that more scrolling and clicks could be expected from users used to this register.
For this project I was largely working in a consulting capacity. I would take feedback from the client or bugs we'd discovered, work on it myself, clear the change / improvement with the wider team and finally brief the design and development team on making the improvements and changes. As someone with both design and development knowledge, I sat across both teams to good effect.